Collaborative Research Center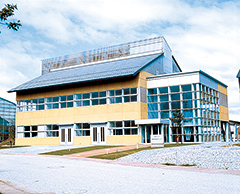 The Collaborative Research Center of the University of Shiga Prefecture was established as the base facility for industrial-governmental-academic collaboration for promoting educational research activities of the university while supporting business research development by exchanges between the university and industry. As coordinator of intellectual resources of the university and business needs, the center aims to contribute to the development of advanced technology by business and the creation of new projects by providing new technologies and organizing research seminars mainly for collaborative research with business and by utilizing the intellectual and material resources of the university in a wide range of fields from practical instruction to information services.
1. Date of establishment
June 1999 operation commenced. April 2003 renamed.
2. Location
Southwest side of the central building of the School of Engineering, the University of Shiga Prefecture (in front of the Gymnasium)
3. Structure of the facility
Two storied building with steel structure. Total area approximately 850m2.
4. Outline of the facility
- Five experimental research rooms (rental experiment rooms) with low rental rates are available.
- Specific experimental room and equipment necessary furnished for small business research development in the prefecture.
(Facilities)
[Anechoic Room]
By blocking outside sound and eliminating echo inside the room, vibration, noise, mechanical noise, and other noise generated from the main body of rotary machinery, machine tools, various electronics products, and conveyance machines that have motor parts can be measured in this room.
[Constant Temperature and Humidity Room]
By keeping the temperature and humidity of the room constant, measurement eliminating the effects of temperature and humidity can be taken in this room. It can be used for the traceability (accuracy test) of various measuring devices for ISO9000.
[Micro Analysis Room]
Experiment and test equipment for the testing, analysis, and evaluation of various materials is furnished in this room.
(Equipment)
Special experimental equipment necessary for various basic experiments:
Scanning electron microscope, scanning probe microscope, X-ray scanning analytical microscope, various spectrophotometers/separation apparatus and others.
- By setting up the Research Exchange Room for industry and academia, the center provides a venue to connect research results/new technologies of university and business needs.