Town Guide
All of the area around the USP can be considered a part of the university campus, and a stage, where students can educate and enjoy themselves. There is much to learn by just walking around these areas and getting to know them.
Much of Shiga prefecture can be described as a lake country, with an abundance of nature and a long rich and living history. The knowledge and unique life styles and traditions of the people who have been settled here over countless generations around Lake Biwa are still in evidence. Thus, for students who want to fully exploit their opportunities to learn and experience during their four years of university education, this Omi (old name of Shiga prefecture) region should be considered as an extension of the USP campus. We believe strongly that for a well rounded education, students should not only pursue their formal studies within the university system, but also undertake other activities that bring them into contact with the local people and natural environment. Such experiences will definitely be a valuable and enriching experience. This large extended campus' of the University of Shiga Prefecture is a wonderful educational environment that allows each student to lead a fulfilling academic life.
Hikone Castle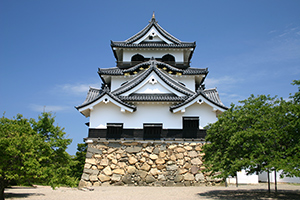 Hikone castle was build over a period of about 20 years by Naotsugu Ii, the heir successor of the first and second lords of the local feudal clan, Naomasa Ii and Naotaka Ii. After it was built, the castle maintained its role as the base of the Ii family of the Hikone rulers, whose wealth is estimated to have been around 350,000 koku (amount of rice received as tribute each year, used to indicate the size or power of a feudal clan). The castle tower, whose construction employs a lot of Chidorihafu (zig-zag shaped gables), is designated a national treasure.
Lake Biwa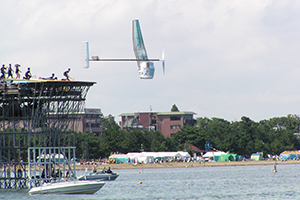 Out of the many spots along Lake Biwa, the Hikone area is probably the main point of attraction for tourists and events. In summer, nationally televised events, such as the "Bird Man Contest" is held here on Pine Tree Beach. On the lake itself, many people enjoy wind surfing and yachting.
Ryotanji temple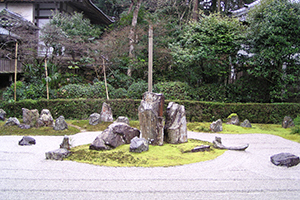 This was the family temple of the Ii family, which was shifted from Iidani in Enshu (old name of Shizuoka prefecture). The temple prospered as a study temple of the Rinzai school. There is a very beautiful garden in the temple grounds. The south garden, known as Fudaraku' is particularly well known. In the temple, there is a painting on a sliding door drawn by a Haiku poet, Kyoroku Morikawa, who was one of the ten disciples of the famous master Basho Matsuo.
Yume Kyobashi Castle Road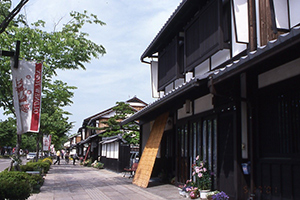 This is a section of Honmachi street that starts from the Kyobashi bridge, which spans the outer moat of Hikone Castle (used to be the middle moat) and extends for about 350 meters to the south. This section of road is known as Yume Kyobashi (dream Kyobashi bridge) Castle Road' and has been developed to recreate the atmosphere a Heisei-era castle town. Shops and private homes here have been renovated to match the castle town atmosphere.
*Photo I am using from (public) Biwako Visitors Bureau.