School of Environmental Science
Promoting harmony between people and the environment : cultivating people with broad views and highly developed specialist skills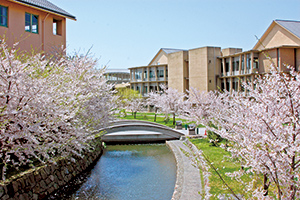 The School of Environmental Science consists of four departments. The Department of Ecosystem Studies emphasizes the causal relationship between human activities and environmental elements from the viewpoint of ecology. The Department of Environmental Policy and Planning is concerned with transforming our society into a sustainable one by making social, organizational, and individual behaviors more environmentally friendly. The Department employs multidisciplinary approaches in its education and research, and offers a wide variety of courses ranging from social sciences to natural sciences. The Department of Design and Architecture studies living space design as human habitat, landscape architecture for the coexistence of humans and nature, and urban environmental planning for sustainable community, to establish harmony between human life and the natural, historical or cultural environment. The Department of Biological Resources Management deals with sustainable development of industry by inputting the smallest amount of resources and develops its management methodology.
The School was established on the basis of considerable experience and knowledge of environmental problems of Shiga Prefecture.Since the activities of environmental sciences involve various fields of pure and applied sciences as well as social sciences, environmental education should be taken in a more integrated approach, which can be done by combining four departments in the School.
The School intends to educate knowledgeable students who have not only a comprehensive understanding regarding the complex interaction between man and the surrounding environment in a system, but also the professional knowledge and technology to solve problems arising from the system. The characteristics of the curriculum of the School focuses on the training for outdoor researches represented by Environmental Fieldworkh to nurture the integral ability for understanding complex environmental subjects. Along with these outdoor researches, lectures and experiments are conducted to foster inter-disciplinary knowledge and professional ability so as to manage diverse environmental issues.