Student Services Center
About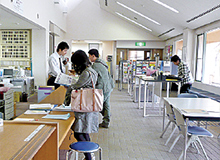 The Student Service Center provides administrative services for students at USP.
Student Services Center is located on the 2nd floor of the Administration Building. We're here to assist students and to provide various information you may need for your campus life. If you need any help, please feel free to stop by.
Student Support Room
Student Support Room is located in the Student Service Center and is open to anyone who wants to have consultation with faclties or just look for information.
We provide books and information regarding both academic and professional careers, job offers, language study, studying abroad, campus life and more.
Student Services Center provides the following services:
Facilities
Business Hours
Available Service
Student Hall
Cafeteria
11:00 / 14:00
18:00 / 20:00
No. of seats: 650 approx. Menu: Cafeteria style
Shop
10:00 / 18:30
Sale of stationery, books, CD, research instruments, box lunches, bread, etc.
Vending Machines
8:00 / 20:00
Beverages
Cash Dispensers
9:00 / 18:00
ATM of Postal Service and Banks
School of Human Nursing Dining Room
11:00 / 14:00
No. of seats: 120 approx.
Center for Academic and Cultural Exchange Coffee Shop
11:00 / 17:00
Beverages and light meals (self-service)
* Registration
- Curriculum Registration, Scholorship Procedure, Tuition Exemption, Academic Records, Certificate Issuance
* Consultation on academic / daily life matters
- Curriculum Plan, Obtain Credit, Exam, Academic Results, Licensing, Study Abroad
* Career Support
- Career Consulting, Career Seminar, Internship
Office Hour
-8:30 - 18:15
-8:30 - 17:15 (During Break)