School of Engineering
Developing technology for more fulfilling lives and greater harmony with the natural environment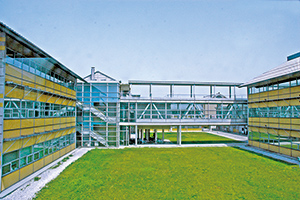 Located in industrially ever-growing Shiga Prefecture, the School of Engineering focuses its efforts in three main areas indispensable in "Production" of new and innovative products, which are represented by the Department of Materials Science, the Department of Mechanical Systems Engineering, and the Department of Electronic Systems Engineering. The Department of Materials Science covers a wide range of materials, such as new metals. ceramics, polymers, organic materials, composite materials and environmentally conscious materials. The Department of Mechanical Systems Engineering provides courses on the study and application in the areas of machine design and manufacturing processes including energy and power, continuum mechanics, material strength and design, machine dynamics, mechatronics, intelligent systems, production engineering and applied mathematics. The Department of Electronic Systems Engineering is a new department established in 2008, covering the wide areas of electrics and electronics engineering and information sciences.
The School's goal is to educate students who will undertake to contribute to advances in industry and human welfare in global perspective for the 21st century, by providing in-depth education covering fundamental knowledge to advanced frontier technology in materials science, mechanical systems engineering and electronic systems engineering.
Next-generation engineering studies will focus on learning how to develop technology that truly enriches human life while managing to preserve or restore harmony with the natural environment. Thus, it is very important to develop technology and products that are humanfriendly and coexist with nature. Based on this principle, in addition to technical education, students also take subjects in the areas of humanities and natural science to help them cultivate a broad and global understanding of engineering problems.