Shugo Yamamoto, School of Environmental Science(4)
USP Student report from germany, January, 2011
Shugo Yamamoto, School of Environmental Science
Augsburg in Winter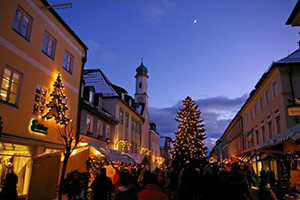 Augsburg has had more snow than usual this January. The gorgeous and lively Christmas fair ended and Augsburg welcomed the new year. Compared with Japan, there are no special events on New Year's Day in Germany, but New Year's Eve is celebrated with a countdown at night and accompanied by loud fireworks, the sirens of ambulances and loud cheering. It was so loud it felt like I was on a battlefield. Unfortunately, the pictures cannot capture all the memories I have from New Year's Eve. Christmas marks the beginning of the university's two-week long winter vacation. Most students spend this time with their families. I was fortunate enough to be invited by my friend's family to attend Christmas Mass at his church. After that we celebrated Christmas Eve with his family and later attended another party with friends. In Japan, Christmas is just one of many celebrations through out the year, but in Germany it is the biggest event of the year. Some people start preparing for Christmas two months in advance which only adds to the anticipation.
The Wannabe (NANCHATTE) Rambling Club
Since I've come to Germany as an exchange student, I've gone hiking every Saturday. Of course I've gone on sunny days, but also when it's rainy or windy or even when it's snowing. If you talk about hiking in Germany, it's all about the Bavarian Alps. On New Year's Day, I saw the first sunrise of the year from Germany's highest summit the Zugspitze (2,962m). Since I study environmental science and geography, there's a lot of I can learn from the mountains. The German landscape is beautiful. The pastures and forests spread out to become a beautiful mosaic. The cities and villages have lovely buildings with red roof tiles that are beautifully surrounded by the luscious green landscapes. This makes for an interesting contrast. The mountains are great. When I see the landscape of Bavaria from the foot of the mountains, I'm always moved by a feeling I can't put into words. This feeling could very well be what I will remember most about my experience in Germany.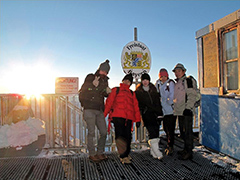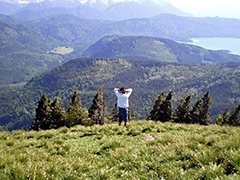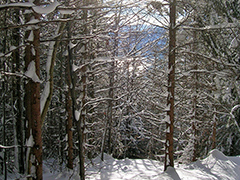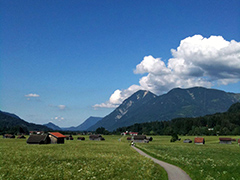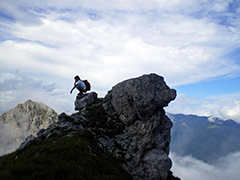 A collection of observations from everyday life
They don't drink beer and don't eat sausage every day. They don't wash their clothes every day. The popularity of bathing is still low. If you don't pay attention, you'll be knocked over by a bike. Students don't sleep during lectures. The timing for hugging is difficult. The city's canteen is cheap and good. Girls who play video games are rare. Surprisingly, many German guys aren't gentlemen. The impression of Germans liking everything right in order and being always on time is nothing more than a cliche. There are many people who like to sing although there are no karaoke rooms. Germans are good at eating while walking, but they don't read while standing. In general, neighbors get along well. There are many sorts of bread. Shop hours are short. There are no vending machines. The fee for using public toilets is high. Most shop assistants are scary. You often hear "Scheisse". There are many honest people.
"An die Freude"
At the end of the 2010 and at the beginning of 2011, I had the opportunity to sing Beethoven's Ninth Symphony together with the Munich Symphony Orchestra at the Gasteig Cultural Center in Munich. The hall with its 2,300 seats was magnificent and the big applause and the cheers given by the full house were so intense that it gave me goose bumps. There is no greater joy than standing on the same stage of a concert hall which is so rich in history, together with professional musicians, in the country where Beethoven lived. It has become a precious experience that I will never ever forget.
The final stage of my exchange
Only about one month of my life as an exchange student is remaining. When I reminisce about all the people I've met, I become a bit sad, but I'm also glad about the new relationships I could build. I can now clearly think about the things I managed to do in Germany as well as the things I couldn't do. I am aiming to enjoy the remainder of my exchange by being true to myself.