Enkhtuya Gesermaa, School of Human Cultures
Study Abroad in Japan : Through the Eyes of a Mongolian Student
Enkhtuya Gesermaa, School of Human Cultures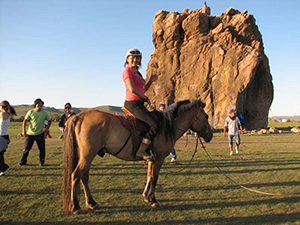 My name is Enkhyuya Gesermaa and I am from Mongolia. I am a junior at the National University of Mongolia and my major is cultural anthropology. My dream is to become an anthropologist. I will study at the University of Shiga Prefecture for one year as an exchange student. Now I am studying Japanese and taking a number of different classes.

Why did I come here? Well, it's related to my interests and my major. I want to learn about other cultures, languages, and to better understand the minds and morals of Japanese people. I believe that by learning about other cultures and languages, I can gain a better understanding of myself. In addition I know that Japanese will be very useful in my future.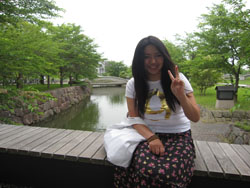 Before I came to the University of Shiga Prefecture, I studied Japanese for a few months with Japanese exchange students and I took some language courses in Mongolia. Now I have dedicated myself to improve my Japanese during the first semester. After that I want to do research about Japanese culture and base my graduation thesis on that research.

I have been living in Japan for two months. It may seem like a short time but I have already experienced many adventures and I have really enjoyed life in Japan so far. I have already made a diverse group of good friends here. I have friends who are Japanese, Korean, and Chinese. My roommate is Korean, so we have to communicate with each other in Japanese. Our Japanese has been steadily improving together and we have became close friends.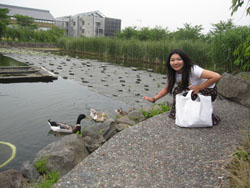 As soon as I came to Japan, I could feel the warmth of people's hearts. The professors at the school have given me helpful advice which has allowed me to have a better understanding of Japanese culture and lifestyle. In addition, my classmates have been very helpful with both teaching me Japanese and helping me with the little things that are sometimes hard to understand.

Believe it or not when I first came to Japan, I did not know how to ride a bicycle. So I had to teach myself. Many people thought it was funny that I could ride a horse but that I could not keep my balance on a bicycle. Now, I use my bicycle to ride all around the beautiful city of Hikone.

I just recently got a job at a supermarket. I am looking forward to this work experience because I have discovered that Japanese people are very careful and orderly in their approach to work. I plan on learning from this experience. I am very excited and looking forward to the upcoming months and the adventures that will come my way. I know that after one year, I will have obtained a lot of knowledge and have gained valuable experience that I will keep with me forever.
(June, 2010)