Masaaki Hata, School of Mechanical System Engineering(2)
Diary for Michigan Exchange Program
Masaaki Hata, School of Mechanical System Engineering
How I spent my long vacations
I was very fortunate to have been able to travel during my one-year stay in Michigan. Saginaw Valley State University has three extended vacations: Thanksgiving, winter vacation, and spring vacation. I would like to share with you my travel experiences during these three extended holidays.
1 Thanksgiving: Chicago, Illinois
Thanksgiving is a major holiday In America. Families usually get together and celebrate this traditional holiday together. Thanksgiving weekend consists of four days. It starts on the fourth Thursday in November and extends to Sunday. During these four days, I visited an American friend who I met while he was studying in Hikone. Chicago is located at the bottom of Lake Michigan. Because of its location, Chicago is known as the "Windy City. " I know first hand why Chicago earned this nickname. The strong winds made me feel much colder than the actual temperature indicated. While in Chicago, I visited the Navy Pier. This place was originally a training facility for the Marines but is now used as a recreation facility. While I was there, I saw a special event where elementary school children dressed in traditional clothing performed dances from many different countries. It was very interesting. The Pier also has other attractions such as cruises from the wharf, a Ferris wheel, and a gorgeous restaurant. I also got to experience Black Friday. Black Friday is the busiest shopping day of the year. It marks the beginning of the Christmas shopping season in America. It is called Black Friday because this is the day many stores go from red ink to black ink. I was surprised to see so many people shopping that day.
2 Winter vacation: New York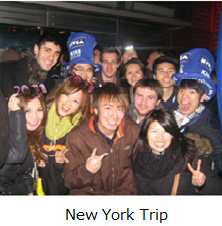 We had almost one month off for winter vacation. During that time, I took a three- week trip to the east coast of America. I went to New York, Boston, Philadelphia, and Washington D.C. I stayed in New York City for ten days and this became one of the most memorable times of my life. I met so many wonderful people who I hope to keep in contact with after I return to Japan. While in the city, I visited many famous places such as Times Square, Wall Street, The Empire State Building, and so on. I found a good Japanese restaurant, so I took my friends there to eat real Japanese food. New York is truly an international city with people from all corners of the globe. If you visit New York during winter break, be sure to celebrate the New Year's Day countdown in Times Square. Needless to say, I enjoyed the countdown with my new friends. This was truly one of the greatest experiences of my life. I came to realize that the greatness of New York is not just its economic importance but rather the unique people who make up this great city.
3 Spring break: Mexico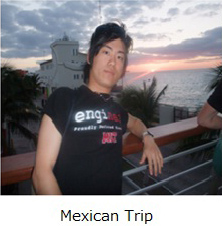 For Spring break, I left cold Michigan and visited a wonderfully warm Mexico. While in Mexico, I visited the Mayan ruins and enjoyed the beautiful beaches on the Caribbean Sea. My friends and I spent one week sightseeing, snorkeling and enjoying the delicious local cuisine. The highlight of the trip was visiting Isla de Cozumel. The boat trip to the island was simply amazing. The Caribbean Sea was a deep turquoise blue. I had never seen water like that in my life. When we arrived on the island, we stopped by some souvenir shops to buy some locally produced clothing and souvenirs. We also enjoyed a great Mexican meal of tacos and quesadillas. When dusk came, I took many pictures of the beach. It was stunning. I was able to learn so much about Mexico during this trip. I will never forget this great experience.
(May, 2011)