Shugo Yamamoto, School of Environmental Science(1)
USP Student report from germany, july, 2010
Shugo Yamamoto, School of Environmental Science
Life in Germany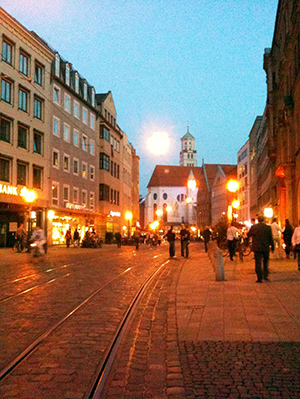 Three months have passed since I came to Augsburg as an exchange student. Despite the time that has past, I am still enchanted by the beautiful streets of Europe and the music of Bach that floats from the churches. Every morning I wake up to the beautiful sounds of the church bells. It is truly wonderful.
Augsburg is the third largest city in Bavaria and is also coincidently Nagahama's sister city. Bavaria is located in the southern part of Germany and is one of 16 federal states. The historical and cultural heritage sites, nature of the Alps, and crystal clear lakes all add to Bavaria's great charm. You can enjoy Bavarian cuisine and delicious beer in a number of comfortable settings and the prices are reasonable.
Germany is said to be one of the leading nations in environmental protection. I am interested in learning about environmental problems and the natural sciences, so these are the main reasons why I chose to come to Germany as an exchange student for one year. I also wanted to learn about the real Germany, study geography at a German university, make friends with students from all over the world and feel the essence of European music from the source. Most importantly, I wanted to experience a learning environment that is different from what I have experienced in Japan.
Life in Augsburg
When I came to Germany this May, there was still snow on the ground. Now summer has come and the atmosphere has changed just like the seasons. Shortly after my arrival, I had to register with the foreign registration office, the health insurance bureau and I needed to do other official procedures. In addition, I had to participate in an orientation for the new exchange students. Needless to say, I was very busy and did not have time to think about Japan or to get homesick.
I live in a students' dormitory. The room has a small kitchen, where I can cook for myself. The dormitory is situated in a convenient place as there are supermarkets and a department store nearby. I commute to school by tram; it takes about 20 minutes. I usually eat lunch in the student cafeteria with my friends. We talk and joke with one another while having lunch. Occasionally I study or relax in a cafe. The university library is open until midnight. It's a perfect place to study or sometimes even catch up on some sleep. The social scene is also very fun. The German students are very good at balancing their studies with parties. The teachers and students are really kind. In addition to helping me with my studies, they also have assisted me when I needed help with everyday chores.
School Life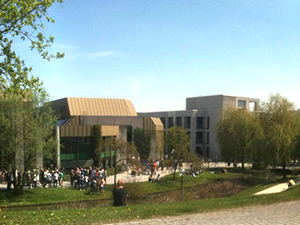 Augsburg University is a fairly new university with a large faculty. The school will soon be celebrating its 40th anniversary. There are many international students from around the world, especially from the EU as many of them get assistance from ERASMUS which is a European student exchange program.
Most of classes for undergraduates are conducted in German, but the graduate school courses are taught mainly in English. The classes are classified into the following three categories: Vorlesung (lectures), Ubung (exercise courses), and Seminars. I am taking courses related to geography. Let me briefly introduce some of my courses.

Geoinformatik Vorlesung: Students learn the basic theory of Geographic Information Systems. The class is held in a large classroom. The teacher presents the lectures and students interactively respond to the teacher and with one another. The students actively participate in each lecture.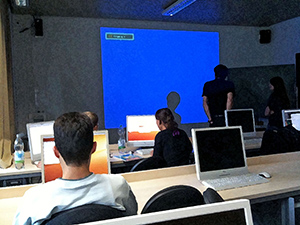 Geoinformatik fur Fortgeschrittene: Students learn programing using PCs. The target of the class is to get information from satelite pictures related to each student's research.

Hauptseminar Verkehrsgeographie: This is a seminar class. In this class each student gives a presentation and another student assumes the role of MC. Afterwards, all the class members discuss the problems and make suggestions on how to improve thr presentation.

Deutschkurs: This is a German language course. At the beginning of the term, students have to take an exam. Based on the results of that test, the students are placed into classes that are most appropriate to optimize language acquisition.
Friends from all over the World
At Augsburg University, they have what they call a tandem partner system for the exchange students. This system promotes language exchange by having the students help each other. For example, I am collaborating with a student who speaks German and wants to study Japanese. We then spend time each week helping each other learn the other's language. I have been told many life-long friendships have been fostered by these exchanges. Fortunately Augsburg University has a Japanese language course, so there are many students who are interested in Japan and in studying Japanese. My tandem partner and I often watch Japanese animation, go on trips and watch soccer games at bars together.
The Future
I am convinced of the importance of learning foreign languages. I am truly enjoying my life as an exchange student in Germany. I am sure that this experience will broaden my opportunities for finding a future job. I want to make the most of each and everyday and take advantage of every little moment here and enjoy my student life in Germany as much as I can.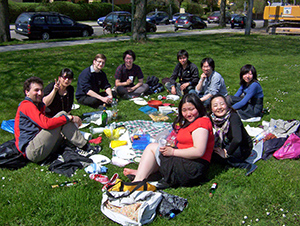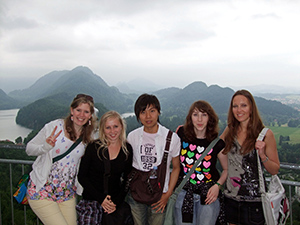 (July, 2010)