ステファニー・ラントウェイ
ステファニー・ラントウェイ(Stefanie Landwehr)さん(環境科学部)
Information on International Exchange and Study Abroad
Study Abroad in Japan : Through the Eyes of a German Student
Stefanie Landwehr, School of Environmental Science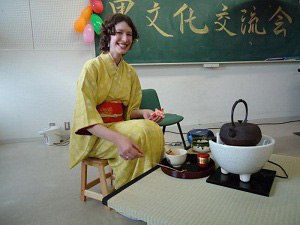 Minasan, Konnichiwa!
 My name is Stefanie Landwehr and I have come to the University of Shiga Prefecture as an exchange student from Augsburg University in Germany. Augsburg is located in the south of Germany, in Bavaria, about 30 minutes from Munich by train. At Augsburg University I study English as my major subject and economy and Japanese as minor subjects, but since I've come to Japan, I've been focusing mainly on learning Japanese. So please feel free to talk to me and help me improve.

 You may wonder why I chose to come to your university. Well, the answer is that the contract for cooperation between Augsburg University and the University of Shiga Prefecture was signed only about a year ago and I guess I was feeling quite adventurous when I learned that Augsburg University offered me the chance to study in Japan, so I decided to be the first person to experience life at USP. Furthermore, I liked the fact that almost all lectures are held in Japanese because I thought that hearing the language and communication in it as much as possible is the best way to learn it.

 I have been coming to university for almost three months now and I really like the design of the campus. It gives me a feeling of openness and space. Though, concerning the inside of the buildings, that seems to be a drawback in winter. Coming from Europe, I'm used to central heating, so I often find the classrooms to be quite cold.
 The staff and the professors at USP, in contrast, make me feel warm, as they are all very friendly and helpful. There is far more communication between the students and professors here and you can also chat about personal things. I'm not used to this as in Germany the professors are very busy and university is first and foremost regarded as a place for studying. Therefore, I was also surprised to find that there are clubs, where students can do the things they enjoy. My major being English, I joined the ESS club to experience this aspect of Japanese university life as well.
 An even bigger surprise was the university's festival. In Germany we have festivals only while going to school and they last only one day. Once university starts, there are sometimes parties, but they are mostly about drinking alcohol, dancing to loud music and chatting. So a festival that lasts for three days, with lots of different food stalls and other events, was a first-time experience. I was also astonished that there were no lectures the day before and after the festival, something that is unthinkable in Germany. So I really enjoyed the festival and had lots of fun, coming to university on all three days so as not to miss out on anything.

 In the beginning, life at USP was sometimes quite difficult. I didn't understand much of the lectures and I also found it a bit hard to make friends. The impression I got was that Japanese students are rather shy or they find me intimidating, as I could see them stare at me curiously or hear them talk about me, but no one ever talked to me. So I sometimes felt a bit lonely when my tutor wasn't with me. (Thanks, Kazupi. I'm really glad to have you around.) My Japanese has improved by now and I've got to know a lot of people, who are really nice, so I hardly feel lonely any more. Unluckily, I'm really bad at remembering names after hearing them only one time, so please be patient with me.

 When I return to Germany in August next year, I still have to go to university for another year and will then graduate with a Bachelor's degree. As to what my job will be, I still don't know. It would be nice if I could use my knowledge in English, Japanese and economy plus I also like helping people. Maybe I can get some incentives about my future career while I'm in Japan and studying at USP.

 Thank you, everyone, for reading my text. I'm looking forward to gaining many more surprising and exciting experiences with you.
(December, 2011)